The Passion of the Christ - Widescreen Edition DVD

The Passion of the Christ - Full Screen Edition DVD

The Passion of the Christ (50-Unit Church Pack) DVD

The Passion of the Christ VHS ~ Dubbed in Spanish


Editorial Reviews
Amazon.com
After all the controversy and rigorous debate has subsided, Mel Gibson's The Passion of the Christ will remain a force to be reckoned with. In the final analysis, "Gibson's Folly" is an act of personal bravery and commitment on the part of its director, who self-financed this $25-30 million production to preserve his artistic goal of creating the Passion of Christ ("Passion" in this context meaning "suffering") as a quite literal, in-your-face interpretation of the final 12 hours in the life of Jesus, scripted almost directly from the gospels (and spoken in Aramaic and Latin with a relative minimum of subtitles) and presented ...

The Passion of the Christ Music CD Soundtrack
The Passion of the Christ Soundtrack CD
The Passion of the Christ Soundtrack

1. The Olive Garden
9. Mary Goes To Jesus
2. Bearing The Cross
10. Peaceful But Primitive / Procession
3. Jesus Arrested
11. Crucifixion
4. Peter Denies Jesus
12. Raising The Cross
5. The Stoning
13. It Is Done
6. Song Of Complaint
14. Jesus Is Carried Down
7. Simon Is Dismissed
15. Resurrection
8. Flagellation / Dark Choir / Disciples
The Passion of the Christ Music Score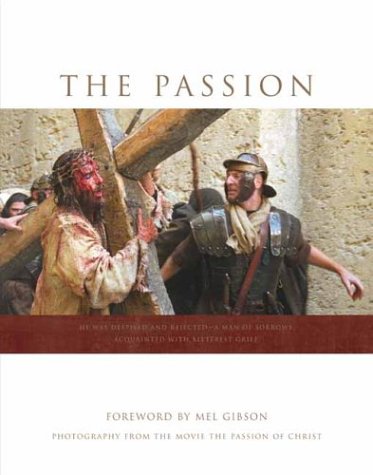 The Passion : Photography from the Movie the Passion of the Christ
by Mel Gibson (Foreword), Ken Duncan Hardcover
The Passion is a visual portrayal of the last twelve hours in the life of Jesus. Gripping photos taken on the set of Mel Gibson's new film, The Passion of Christ, together with the biblical narratives in the New Living Translation, present the story in vivid detail. A sweeping presentation of the Passion story in powerful images that will enhance the movie experience!
"This is a movie about love, hope, faith, and forgiveness. He [Jesus] died for all mankind, suffered for all of us. It's time to get back to that basic message. The world has gone nuts. We could all use a little more love, faith, hope, and forgiveness." --Mel Gibson, Icon Productions

A Guide to the Passion: 100 Questions About The Passion of The Christ
by Matthew Pinto, Editors of CatholicExchange.com Paperback

Mel Gibson's stunning film, The Passion of the Christ, has touched thousands of hearts since its release. It has been called "the most powerful film ever produced" about the life and death of Jesus. Yet, despite its visual and emotional impact, the dramatic events portrayed do not explain themselves; they often give rise to perplexing questions. This book helps you delve a little deeper into some of the movie's profound riches-the passion of Christ.
Browse more Christianity Books

Collectibles
Dolls - Plates - Music Boxes - Die-cast Cars - Figurines - Sculptures & more
Hobby
RC Cars - RC Planes - Robotics - Science Kits - Transmitters & more
Online Games
Play Games on the Internet