Framed 8X10 - #1
Solid Wood Black Frame
$17.50



Framed 8X10 - #2
Solid Wood Black Frame
$17.50




Framed 8X10 - #3
Solid Wood Black Frame
$17.50




Framed 8X10 - #4
Solid Wood Black Frame
$17.50

Marilyn Monroe items on eBay. Save $$

Marilyn Monroe A Timeless Beauty Wall Clock

There are few celebrities more mesmerizing than the beautiful Marilyn Monroe! Thanks to the immortal images she left us, particularly the revealing photo portraits from Milton Greene, Marilyn remains the face of beauty for all time. Now, you can be reminded of her sultry glamour every minute and every hour of the day with a Marilyn Monroe collectible wall clock that includes a classic image of Marilyn crafted upon fine porcelain.
Declare your admiration for this infamous blonde bombshell with this limited-edition Marilyn Monroe collectible wall clock exclusively from Bradford Exchange. Brisk demand is expected for this sleek timepiece that features accurate quartz movement and a replica Marilyn signature. Don't wait a minute longer, order now!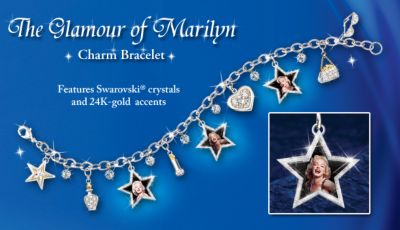 The Glamour Of Marilyn Charm Bracelet: Collectible Marilyn Monroe Jewelry Gift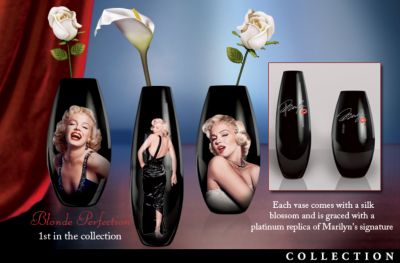 Marilyn Monroe Collectible Porcelain Vase Collection: Love Always, Marilyn

Marilyn Monroe Collector Plate Wall Mural
Share the thrill of coming face-to-face with the one and only Marilyn Monroe! In what must surely be the ultimate Marilyn Monroe collectible, this dazzling collector plate wall mural explores the complex moods and legendary charisma of Marilyn in a series of five breathtakingly intimate portraits, vividly presented on fine porcelain! What a magnificent tribute to the unforgettable Marilyn, perfect for any room in your home!
Available only from The Bradford Exchange, this limited-edition collection is showcased in a custom-designed, dual-level wood display frame, a $70 value, yours FREE!* A fine work of collectible wall decor art like this is sure to enthrall the legions of Marilyn Monroe fans, so please, don't delay - order yours now!

Visit CollectiblesToday.com for more Collectible Clocks
Featured Artist :
Native American / Southwest Collectibles